Classic Corners
Since 1952 Pan Abode has manufactured a Danish style (Classic) notch that allows precision milled wall timbers to connect at 90 degrees and create a locked in place joint. Corner Timber stubs are visible from the exterior of the building.
Exterior Wall System
Wall Timbers
Solid Air-Dried Western Red Cedar, Select Knot (SK) precision milled on four sides to create a tongue & groove connection. The wall timbers are precision end cut to exact length, notched to create lock joints at corners, labeled, wrapped and ready for on site assembly.
Single Timber Wall System
Wall timbers are 4x6, 3x6 for Tropical Climates. Graded for appearance on both faces.
Energy Wall System - (R-21)
Using 3x6 wall timbers, the interior wall surface is covered with R-19.5 rigid insulation. Included are kiln-dried 2x2" furring at 24" centerlines applied on the interior timber wall face. The Energy Wall System can be further upgraded with thicker insulation to obtain higher R values.
Double Wall System
Available with an R-21 and better insulation value, ask for details.
Two Story & Homes with Lofts
Priced with Exterior Walls of the Single Timber Wall or the Energy Wall System at the first level. The upper levels and lofts are Post&Beam construction with matching 1x6 Cedar Pattern profiled siding at the exterior surface. On many of the plans you may upgrade the upper level walls to solid cedar timber walls for an additional charge.
Interior Walls
Some of the interior walls (walls that support overhead beams that span from the exterior timber walls) will be either 4x6 to match the exterior 4x6 walls or 3x6 to match the exterior 3x6 walls. The remaining interior walls are provided as 2x4 or 2x6. Interior finish provided by your builder.
Options and/or Upgrades Available
Typical interior wall finish is assumed as 1/2" gypsum drywall
1x8 SK tongue & groove cedar
Interior walls can be upgraded to solid cedar 3x6 or 4x6
1x6 SK ship lap cedar
1x6 SK tongue & groove cedar to match the wall timbers
1" or 1/2" Clear cedar or fir tongue & groove
Tropical Climate
NOTE: TROPICAL CLIMATE all framing materials are Treated and studs are 2x4 unless change is requested or required.
Refer to the Common Components page for what is included in every Pan Abode package.
The Custom Home Guide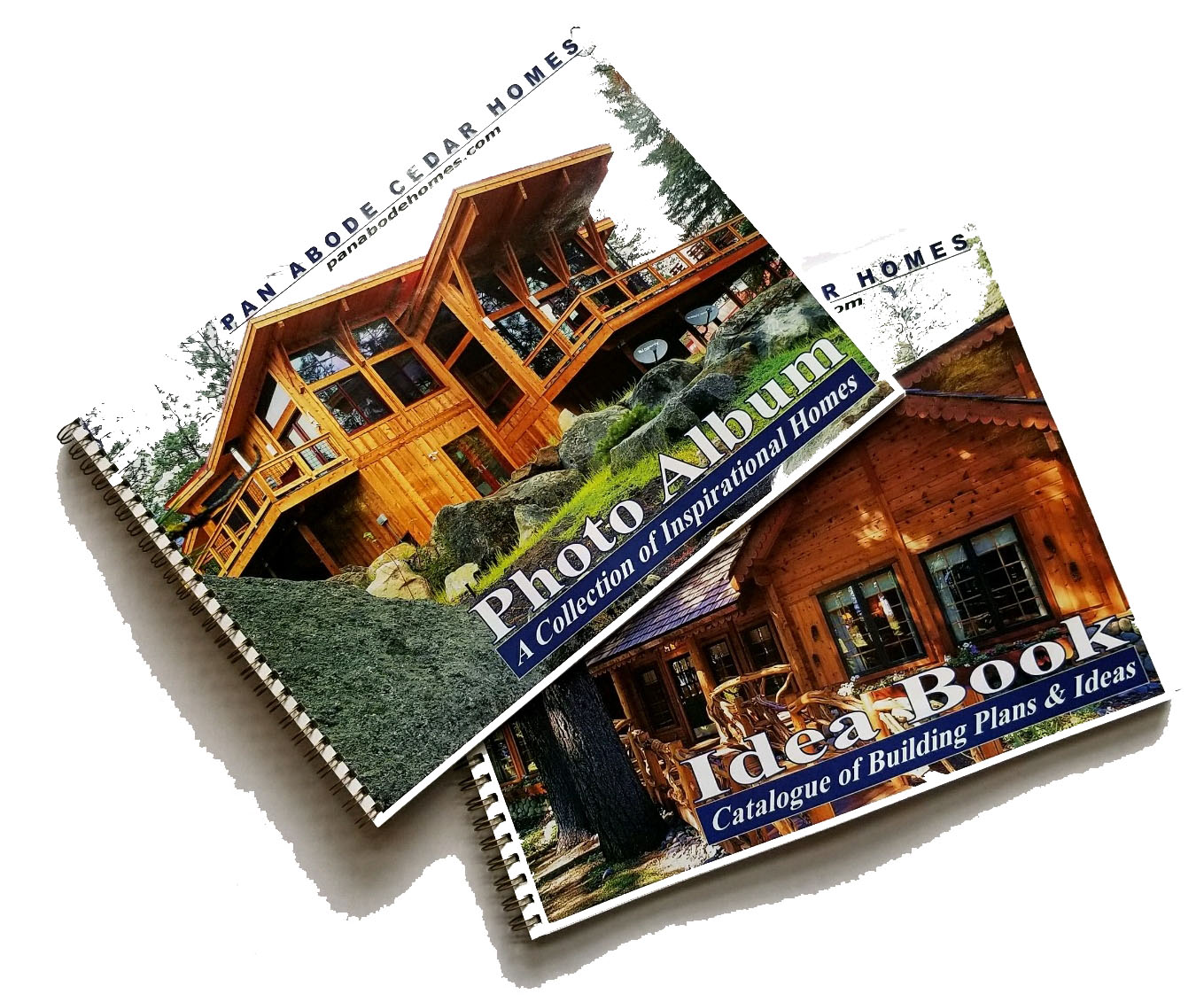 Pan Abode Cedar Homes offers an abundance of plans & images in our catalog called "The Custom Home Guide " and includes The DVD Companion. It offers unique designs which include architectural styles such as chalets, ramblers, ranch homes, contemporary homes, and many type of prow configurations. The Custom Home Guide provokes thought and motivates the designer in all of us.