| | |
| --- | --- |
| Click for full size image | Click for full size Mockup |
"Phoenix" Timber Building System:
A solid wood home, with a refined modern appeal! The contemporary look of the Phoenix Timber Building System integrates well in any landscape or neighborhood. For those who desire the allure of a solid wood home, with a refined modern appeal! The Phoenix Timber building system is an exceptionally strong, easy to assemble solid timber building system utilizing horizontally stacked kiln-dried laminated Western Red Cedar timbers made of either 5-1x laminations "5 lam"x7" for insulated buildings, or "3-Lam" for Tropic regions. Both Cedar Timbers are engineered to create a solid timber wall able to withstand earthquakes and hurricane-strength winds. The Phoenix Timber wall segments are adjoined together by Douglas Fir vertical columns.
Why are laminated timbers better?
The dimensional stability of engineered laminated timbers are far superior to solid timbers in that the reversed orientation of wood grain in the laminated timbers resist the woods internal stress that causes twisting, cracks, and bowing. Making the resulting timbers at rest and free from internal stress. Western Red Cedar is also a far better insulation performer than most all other woods because of its internal cell structure. Cedar has a high thermal mass property that actually stores heat and gives it back off later. Conventional insulation does not have this ability.
Timber movement is controlled with the Phoenix System.
The Phoenix Timber Building System is an advanced corner-post ("Phoenix Column") system that utilizes vertical Douglas Fir dado'd columns to stabilize the kiln-dried wall timbers from differential settlement which is a big problem with conventional log/timber construction systems. All wood members swell and contract perpendicular to the grain dependent on humidity and temperature. Solid logs move allot more than laminated. Our patented Phoenix Timber Building System Columns minimizes the amount of movement by allowing the timbers to react independently from one another. The Timbers are attached to one another by tongue and groove interface and a low modulus adhesive that acts as a sealer and moves with the logs at any temperature. The Vertical Phoenix columns are periodic along any one wall line and depending on structural needs, these columns may be anchored directly to the foundation by a hidden hold-down system. Truly an advanced engineered log building system, easy to construct!
Building plans, yours or ours?
Pan Abode Cedar Homes has been giving away award winning Custom Design with our building packages for years. Choose one of our plans and feel free to modify it, or bring in your own plan. With our "Free Custom Home Design Consultation", we will give expert design assistance and supply you with an accurate FREE pricing estimate. Work directly with a designer to get the home you want. Use the "Submit a Sketch" to initiate the process. "From Concept to Reality"
System Isometric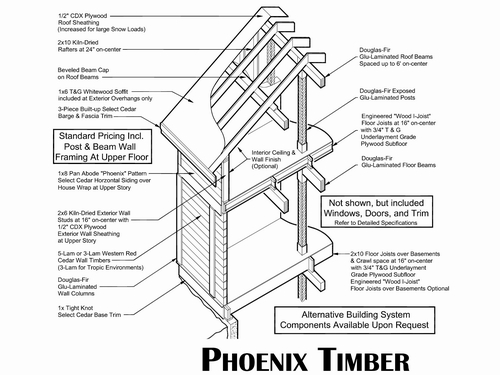 Click for full-size version.
PHOENIX Timber Material Specifications (What's included)
Pan Abode sets a standard specification material list that corresponds with our published price list for our Complete "Dried-in" building shell packages. These specs can be modified to the desires of our customers and their needs. The following is an overview of "What is Included" with the Phoenix Timber Building System. Click below if a more detailed description is desired.
Floor System: Main floor includes solid sawn floor joists, underlayment grade subfloor, glue, and fasteners. Second Floor includes Engineered Wood "I-Joist" Floor, underlayment grade subfloor, glue, and fasteners.(typically all materials below Main floor joists are by others unless specified)
Wall System: Laminated 5-Lam Solid Cedar Exterior Wall Timbers. Interior 2x4 or 2x6 wall framing. Phoenix Energy Wall: 3-Lam Cedar Wall Timbers, 2x3 Furring System, 3" Rigid Insulation and Interior Cedar Pattern Siding. 3-Lam Phoenix Timbers for Tropic Regions
Structural Matrix: Comprised of Exposed wood Glu-laminated Beams and Posts.
Roof System: 2x12 Rafters to accommodate a R-38 insulation cavity, CDX plywood, 1x6 exterior Whitewood soffiting.
Doors & Windows: Vinyl lifetime dbl glazed Windows, Fir exterior entry Door, Solid core oak interior Doors, Door hardware and Cedar Trim.
Trim Package: Floor, Roof, Wall Exterior Trim. Interior Window and Door trim.
Hardware: Metal framing connectors, exposed metal beam and post connectors, roof vents, screws and stainless trim and siding nails.
Documents: Design Interface, construction plans, construction guide, and complete materials usage lists.
Technical Support: Renowned customer service and technical support always available.
Not Included in std price: Insulation systems, interior wall coverings (drywall), stairs, roof covering, decks, and exterior sealants. Interior finish items such as cabinets, counter tops, floor coverings, electrical system, plumbing system, and heating system.
View the Complete Material Specifications for the Phoenix Timber Building System.