Post & Beam

Building System...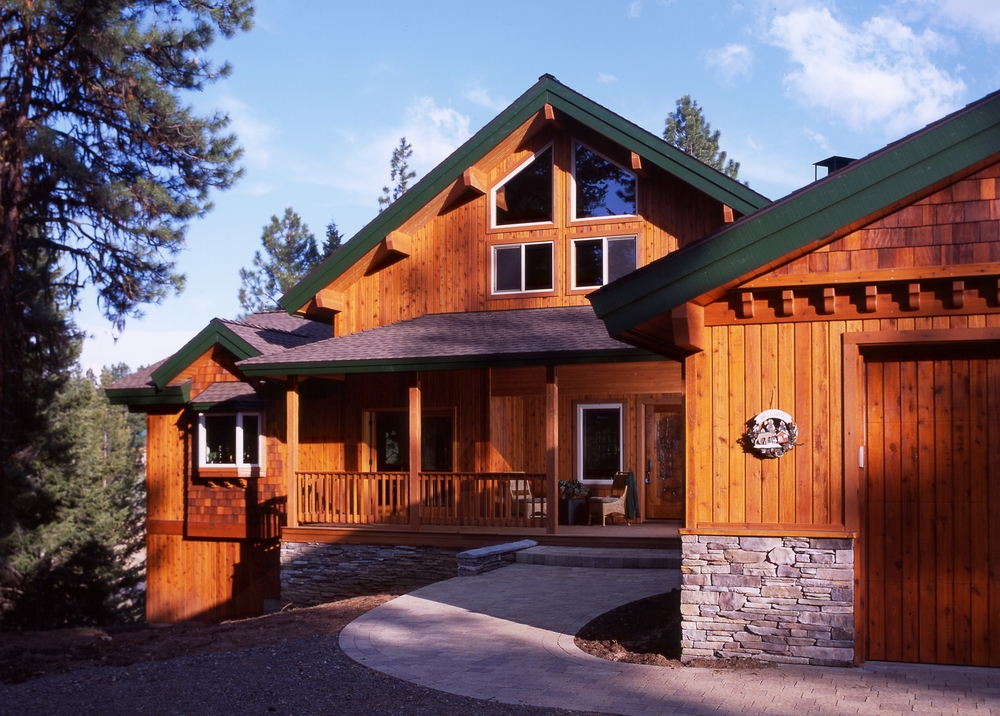 Think out of the traditional "Timber Frame" Box!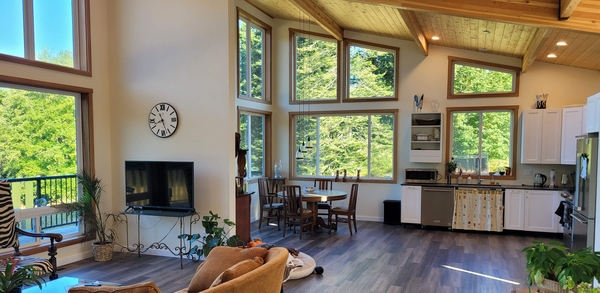 | | |
| --- | --- |
| Click for Post&Beam Overview | Click for full size Mockup |
Fans of traditional Post and Beam, and Timber Frame construction will adore our Post and Beam Building System. PAN ABODE redefines the traditional Post and Beam by combining modern building techniques with time honored structural expression to create an elegant home that is not encumbered by the limitations of a traditional Timber Frame system. PAN ABODE is the True Post and Beam building system known for efficient expansive open spaces and accentuation of structural detail, don't be fooled by imitations. A rich combination of Western Red Cedar ext. siding and trim, with full cathedral exposed Douglas Fir Beam ceilings and contemporary walls of glass that bring the outside in create an impressive open design.
The structural strength of our Post and Beam homes come from a sturdy frame of Douglas Fir glulam posts positioned under the overhead Douglas Fir glulam roof beams spanning the structure making large vaulted areas. PAN ABODE's Post and Beam homes are designed with flexibility in mind. Unlike the rigid structural design of Timber Frame, the Post and Beam Building System is ideal for the manipulation of structure to arrive at a custom cedar home that is unique to your aesthetic desires!
The Posts and Beams are spaced 6' apart which maximizes the ratio of space to cost and provides optimum design spaces for rooms such as bathrooms and bedrooms as well as spaces for larger doors and windows. Connections are reinforced with bolted steel plates. This system allows for expansive living spaces and high ceilings not restricted by traditional framing and load bearing walls.
Exterior siding is choice of Western Red Cedar 1x6, 1x8 horz. t&g or 1x6 WRC vertical "Ship lap" siding. Other exterior coverings available to meet your desire. Interior walls are assumed finished with with drywall or optional cedar paneling, pine paneling, or any custom material you select. The open beam ceilings can be of 2x6 Whitewood decking, 1x6 Whitewood paneling, or drywall.
The Pan Abode Post and Beam home. A combination of modernmaterials and open spaces with unlimited design possibilities and Post and Beam appeal.
Building plans, yours or ours?
Pan Abode Cedar Homes has been giving away award winning Custom Design with our building packages for years. Choose one of our plans and feel free to modify it, or bring in your own plan. With our "Free Custom Home Design Consultation", we will give expert design assistance and supply you with an accurate FREE pricing estimate. Work directly with a designer to get the home you want. Use the "Submit a Sketch" to initiate the process. "From Concept to Reality"
System Isometric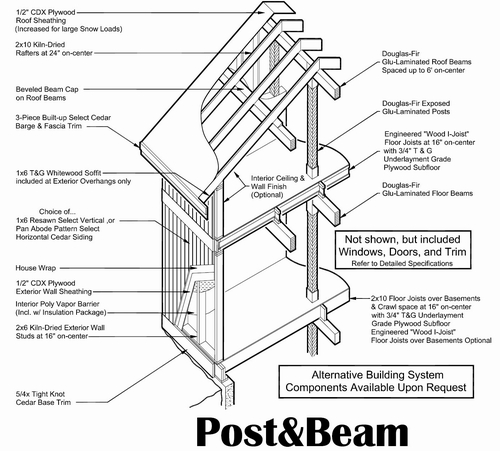 Click for full-size version.
Post & Beam Material Specifications (What's included)
Pan Abode sets a standard specification material list that corresponds with our published price list for our Complete "Dried-in" building shell packages. These specs can be modified to the desires of our customers and their needs. The following is an overview of "What is Included" with the Post&Beam Building System. Click below if a more detailed description is desired.
Floor System: Main floor includes solid sawn floor joists, underlayment grade subfloor, glue, and fasteners. Second Floor includes Engineered Wood "I-Joist" Floor, underlayment grade subfloor, glue, and fasteners.(typically all materials below Main floor joists are by others unless specified)
Wall System: Post & Beam walls of 2x6 framing, CDX plywood, House Wrap, and choice of Exterior Cedar Siding. Interior wall framing.
Structural Matrix: Comprised of Exposed wood Glu-laminated Roof/Floor Beams and Posts set on a stacked grid format.
Roof System: 2x12 Rafters to accommodate a R-38 insulation cavity, CDX plywood, 1x6 exterior Whitewood soffiting, Cedar Roof Trim.
Doors & Windows: Vinyl lifetime dbl glazed Windows, Fir exterior entry Door, Solid core oak interior Doors, Door hardware and Cedar Trim.
Trim Package: Cedar Floor, Roof, Wall Exterior Trim. Interior Window and Door trim.
Hardware: Metal framing connectors, Powder coated exposed metal beam and post connectors, roof vents, screws and stainless trim and siding nails.
Documents: Design Interface, construction plans, construction guide, and complete materials usage lists.
Technical Support: Renowned customer service and technical support always available.
Not Included in std price: Insulation systems, interior wall coverings (drywall), stairs, roof covering, decks, and exterior sealants. Interior finish items such as cabinets, counter tops, floor coverings, electrical system, plumbing system, and heating system.
View the Complete Material Specifications for the Post and Beam Building System.