Pre-Cut Cabins
and
Tiny House Kits...
Building Systems = efficient easy assembly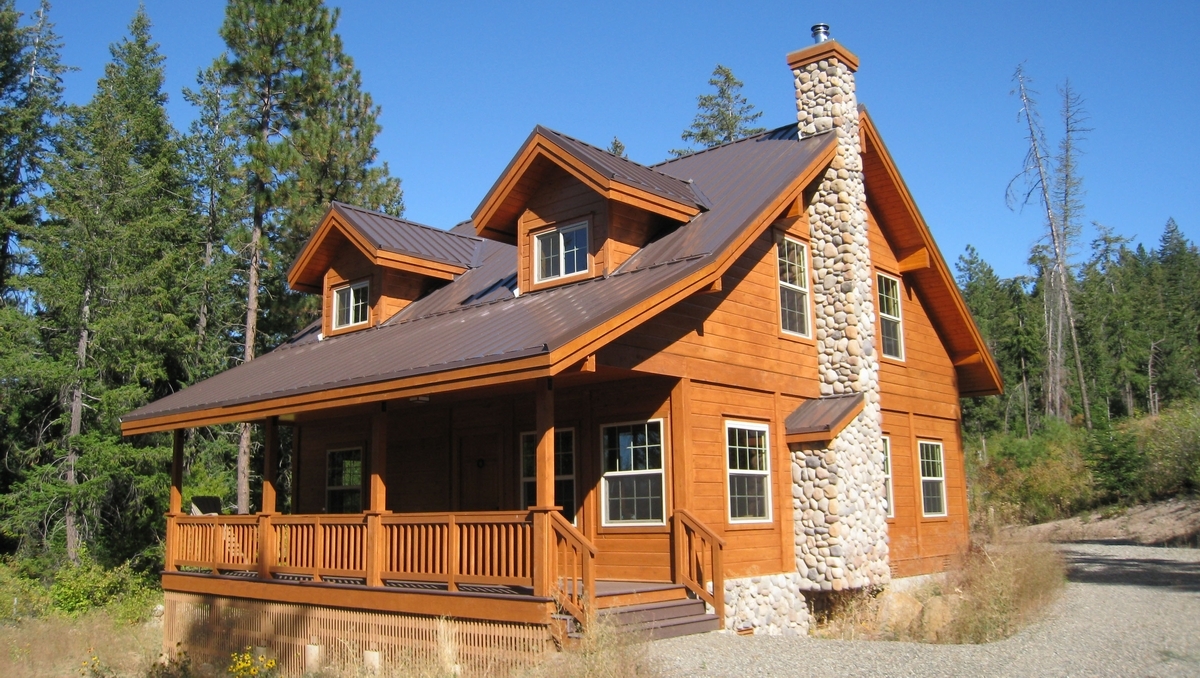 PAN ABODE offers two levels of Cabin kits. Packages that meet all aspects of insulation codes , or "Seasonal Cabin Kits", which do not meet the energy code requirements and are for temporary use. Cabins with our standard specs for insulation read on.
What size is your Dream Cabin?
Whether you are looking to build a couple hundred square foot remote Hunting Seasonal Cabin, a weekend Cabin of a couple thousand square feet, or a lavish second home vacation retreat, PAN ABODE Cedar Homes has the easy to build Building Systems and the Design expertise to fulfill your discerning needs. For 70 years PAN ABODE has supplied Cabins and High end Homes to our customers all over the planet. We use West Coast wood products that are superior in strength, and are proven to stand the test of time.
Use our Standard Material Specifications for your cabin if it requires the insulation systems to comply with your local Energy Codes, or choose one of our "Seasonal Cabin Kits" for that location that does not.
Building Systems
We offer 4 distinct Building Systems/styles to accommodate the setting of your cabin project. All embrace the rich warmth of Western Red Cedar and the natural strength of Douglas Fir. All systems make building easier and more efficient.
Choose from stacked Western Red Cedar Timber Building Systems (Phoenix, D-Log and Classic) utilizing time tested pre-cut"ease of construction" techniques for quick structure erection. These systems come precut and part numbered so virtually anyone can assemble these systems without much construction know how. Our Timber systems come in either flat faced profiles, or exterior rounded profiles.
We also offer a Post and Beam Building System for more flexibility and dynamic appeal.
Material Specifications for Cabins
Standard Materials specifications for all our Building Systems are based on IRC energy code compliant requirements. We also offer Seasonal "Cabin Kits" specifications for those projects not bound by energy requirements. PAN ABODE can custom tailor your project materials to your needs. Visit Standard Materials specifications for a complete description.
Design; Custom or not?
We also offer Custom Design to our customers, choose to modify one of our Standard Plans, Cabin Kit Plans or supply a sketch of your own to take advantage of PAN ABODE's ability to custom design the right cabin for you.
You will notice our collection of plans vary from complexity and area. We assume any of our plans can be perceived as a cabin depending on the customer point of reference. Plans of area 1200 square feet and less are "Cabins" to the norm. Our "Eagles Nest" plan series are our cabin plans.
Free Cost Estimates

PAN ABODE will gladly provide a complimentary cost estimate on your project. Send us your sketch for quote and let us know if you want "Energy Code compliant" specifications or "Non Compliant" specifications.
You can also initiate an estimate while viewing our collection of plans. Just click on the "request an estimate" button.
Alaska Fishing Cutter #1650 Cabin