PAN ABODE Customer Reviews...
Through the years PAN ABODE has developed a large family of satisfied customers who enjoy thier homes. The following is just a few comments from our loyal friends...
We are so grateful to have chosen PAN ABODE Cedar Homes for our new 2022 beautiful rustic and modern lake house in the Adirondacks of New York. The company's team for communicating and accommodating our needs to build the house of our dreams was impressive prior to, and during the entire design and building processes. The quality of the building materials, architectural and structural design is superior as evident by the many compliments we have received. We highly recommend PAN ABODE Cedar Homes that will give you a WOW factor.
Ronan & Teresa Creedon, Adironack Lake NY
https://abnb.me/uROuaNUFntb
Our quest for the perfect Vacation Home started with the concept of moving an older house or buying a modular home for our Island lot. Then we heard about PAN ABODE and it was like someone turned on the green light. Their design build custom home was a perfect fit for us. Our HOA had many requirements to meet and PAN ABODE's team of Ron and Jerry were more than happy to customize the Horizon View to meet those requirements. We never felt pressured in any way, the plans were drafted up and we proceeded to order the kit. The beauty in ordering all the main components in this fashion was that all the lumber was on site and we locked in on the price. Being on an Island that was extremely economical. The quality of the components were very good, the PAN ABODE team was always quick to answer any of my questions or concerns, and we had more then enough wood to complete the house. I love the finished house. I would not hesitate to recommend PAN ABODE to friends and family...
Joe & Nancy Waldman, Anderson Island WA porterjensen.com
I wanted to take a moment to express how pleased we are with our PAN ABODE home. From the very start your company was easy to work with on design and planning. We found a good selection of options and design ideas. Once we were ready to start building, communication and delivery were excellent. The materials we received were truly exceptional! As a General Contractor I see different grades of material, most of which are not very good these days! We were very pleased with the framing material, Glu-Lams and finish trim material. The window, doors and hardware were truly first grade. We now operate a small B&B from our home and our guests are always amazed at the beauty and quality of the home. I can't recommend PAN ABODE enough. Easy to work with, great quality, good communication and beautiful homes! ...
Mike & Diana Richards, Washougal WA.
www.angelsrestbnb.com
redlettersenterprises.com
"After doing a bit of research on different options for cabin kits, we chose PAN ABODE for their long standing reputation and great reviews. They delivered on every aspect of what they offered, from great communication through the entire process to detailed plans and instructions to the highest quality materials! We couldn't be happier with our experience with PAN ABODE and would highly recommend their product!" ...
Michael & Melisa Lapping, Seeley Lake MT.
"When we decided to build our home we knew we wanted a post-and-beam style structure but weren't sure where to begin. We spoke with various dealers and chose PAN ABODE Cedar Homes based on their customer service, quality of materials, affordability, their design offerings and their willingness to help walk us through the process. They even allowed us to visit their facility in Renton to check everything out where we met Jerry Kierig who took our design ideas and designed our home. Five years later when we decided to build our business we knew exactly where to turn and once again PAN ABODE and Jerry helped us turn our dream in to reality. To this day we don't regret our decisions and have recommended PAN ABODE to anyone who is interested in a post-and-beam structure. We still stay in touch with PAN ABODE and have invited interested customers to visit our home and business as sometimes you just have to see it to believe it." ... Tracey & Monica Huke, Parkville MO.
"For the better part of thirty years I carried this fuzzy image around in my head-- the home of my dreams! Many times it was crystal clear but when I tried to draw it or explain it to others, it got fuzzy again. I shared it with my wife Marlene in the late 1990's and we began to consider putting it on paper and talking to prospective suppliers about this dream home. There were numerous dead ends and false starts with other companies. Most could not grasp the vision while others missed the point altogether. At some point in 2001, I suppose, we were about to give it up, at least for a while. But we felt our (perhaps more mine) self-imposed pressure to press on since we had purchased a 120 acre farm in North Western Virginia.
Having lived part time in Seattle for the past six years, we were a little familiar with Western Red cedar and really liked the warm look of it. Oddly enough, as we were about to eject a Pan Abode competitor from any further consideration, the representative mentioned PAN ABODE Homes out in Renton, Washington. Shortly thereafter, we contacted Russ Barney and made arrangements to fly out for a visit. On the flight out we discussed our wishes and wrote them down on a mini-legal tablet. What followed almost defies belief! We met with Russ for no more than two hour in his conference room and told him what we envisioned as our home. We visited a couple of their local sites and really got a good feeling as to how PAN ABODE approaches a task. In no more than two weeks we received four or six sketches (I can't quite recall the number) in the mail. Included was say, three homes each in a smaller and larger version. The first one was what we had described to Russ and the other two were variations on a similar theme. Instantly, we knew that rendering number one in the larger version was exactly what had been drifting around in my brain for the past 30 years. We called and told him of our selection and literally had a full set of plans in thirty days. The deal was sealed and the trucks started heading towards Marshal, VA. Five of them in all! By the way, we still have that piece of paper listing our wishes and upon reviewing it, we incorporated everything on it except one item into the plan.
Some seven years later, we still love everything about living in our custom PAN ABODE home. I still pinch myself to see if it is, indeed, a dream or a dream come true. The most typical reaction when folks enter our home is WOW, as their jaws go slack. They pass the curved stonewall in the foyer and head for the center prow where one can see five counties and a western fifty mile view of the Appalachians. I usually show the guys the "submarine engine room", code for our hydronic in floor heating system. Marlene shows our lady guests the kitchen and even gives me credit for including the second dishwasher. So, you see, not only did we realize our dream did come true, we love sharing it with all our family and friends. I mostly say this when asked about the house- - - " I just can't believe a dummy like me ever did this". Thus, we give all of the credit to the family brain trust- our 20 year old Siamese cat, Vegas." ... Hal & Marlene McCarty, Marshall VA.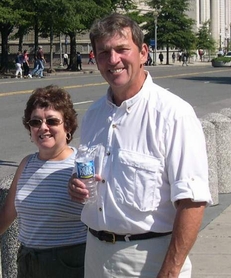 "We continue to be delighted with our PAN ABODE vacation home, built in 2003 on a small island in the San Juans. With the difficulties that some of our island neighbors have experienced in constructing their homes, we count ourselves lucky that we chose Pan Abode. The PAN ABODE team was very helpful and easy to work with, from design to delivery. Most important, the Pan Abode home was absolutely the best value of all of the alternatives that we considered. Quality of materials was first rate and they were all delivered on time. Kristi and I highly recommend PAN ABODE to anyone planning to build a high quality home"... Kristi Branch & Jim Moore, Lake Forest Park WA.
"We went to several companies and they could not handle our design ideas. PAN ABODE's Russ Barney took one look at our plans and solved the complex design issues. He worked through the design and came up with some wonderful ideas. The quality of the materials and level of service were very important to us. It was the personal service and the quality of the materials that set PAN ABODE above the other companies. After the home package was shipped if there was a construction question or if we needed other materials, we just picked up the phone. The construction questions were handled immediatly. Pan Abode also responded the next day to provide the materials we wanted to keep our project on track. Kevin and Russ took great care of us. We definitely feel we got our monies worth in dealing with Pan Abode"...Bob & Ramona Harris , Issaquah WA.