the PAN ABODE Experience; We offer multiple
Home &
Cabin
Building Shell Kit Systems...
Since 1952, PAN ABODE Cedar Homes has been bringing Dream Homes to life with innovative designs, cutting edge engineering, and 4 distinctly different Building Systems featuring Western Red Cedar and Douglas Fir. PAN ABODE sells quality premium Home "Shell Kit" Packages. We work with you to control the Home Design, Building Materials and Construction Plans so you are assured the level of quality & integrity you desire in your New Custom Home.
With thousands of Homes & Cabins supplied, PAN ABODE Cedar Homes sells worldwide, either through dealers, or direct to customers in non-dealer areas. We Design and manufacture every building package we sell. While we usually supply the structural building "Dried-in" shell. Complete building packages are also available. (A Structural building package consist of Floor system, Exterior walls include Siding, Windows, Doors, Interior Walls, the Roof system, Construction hardware, and all Trim Materials.) Material specs
What We Do...
1. Design your New Custom Home: Derived from one of our plans, or your plan, we custom design a home packages to suit your needs. We provide Professional Building Design services with the sale of our Building "Kit" Packages. Design Service
2. Define the Materials for your New Home: We work with you to pick the best Building System to meet you individual Budget, Aesthetic, and Building Site needs. We provide a guaranteed Kit Package Cost Estimate initially, Contract after adjustments are complete. This allows you the customer to more accurately plan the cost of your project. (Our published prices for material packages are based on a structural "dried in" material shell. We can easily add or subtract)
3. Prepare highly detailed Construction Plans & Use Sheets: Professionally prepared plans are prepared for your local Building Dept. Review. Material use sheets and assembly instructions on how to construct your home are prepared in conjunction with the Building Plans for onsite assembly efficiency.
4. Manufacture and Consolidate your Building Shell Kit Package: We Control the quality of your materials. Inspect, wrap, organize, and prepare your materials for shipping. Beams and exposed elements are quality controlled and wrap protected to ensure premium finished assembly.
5. Shipping Coordination of your New Home to your Site: is scheduled for maximum use of onsite storage, scheduling for efficient labor dispersion, and for site delivery issues depending on remoteness or building site accessibility difficulties.
6. Provide "On the Spot" Building Kit Technical Support: The hallmark of any good business comes right down to how you are treated, and the quality of the Customer Service and Technical support you receive.
Q

uality Structural "Shell Kit" Building Packages
Our 4 distinct building systems are perfect for individuals desiring to control the cost & quality of their New Home, or an owner/builder wishing to act as his own General Contractor. PAN ABODE will provide all Structural Kit materials required to build your Custom Home that we design for you.
Building Systems
No matter what the size, specification or style, the common denominator of every PAN ABODE home is superior design ideas, manufacturing craftsmanship, personal service, and product quality. We have an industry-wide reputation for offering the best value in materials, construction, service, and every detail in between.
PAN ABODE's quality mill direct premuim building materials, skilled manufacturing craftsmanship and modern engineering technology turn building products into the sort of home a fine-furniture maker would build. Featuring Western Red Cedar & Douglas-fir our homes are strong and they smell good.
Our company philosophy allow you unlimited choices in materials and design. Not only do we custom design your home or building, but we act as your personal consultant in selecting materials that fit your desires and budget.
Each PAN ABODE home, whether a standard plan or a totally unique custom plan, is individually manufactured at the time it is ordered. There are no "off the shelf" components and the materials for each home are specifically ordered to match your plans from our many suppliers or selected from our stock of cedar materials. Your wall timbers and/or cedar siding is precision milled so that every single piece is perfectly matched and easily assembled.
Custom Home Design is standard
PAN ABODE's experienced design staff will work directly with you to turn your sketches and ideas into the home or building of your dreams. Custom Design Service
PAN ABODE's custom design service will provide you with professional assistance in designing your home to meet your specific criteria, including:
Melding your space and room requirements into a concept that allows an efficient and cost effective traffic flow
Developing a building plan that fits your life style, as well as your budget
Creating a building plan that offers the best utilization of your site space, views, lifestyle, drainage conditions, locations of utilities, your environment, and specific zoning rules, setbacks, height restrictions, etc.
Shipped to your site
The materials for your PAN ABODE home are carefully hand loaded into containers or onto trucks for transporting to your building site. Site delivery issues if any are planned for when shipping is scheduled. All fragile items are packaged for their protection and labeled. Your Douglas-fir glue-laminated beams are individually sanded, wrapped, and identified as to location of use. All construction parts are identified for ease of construction. You will receive copies of the working drawings, and a complete step-by-step construction guide. We consolidate and ship your materials as you need them to better suit your schedule.
At the end of the day PAN ABODE stands behind every element we provide. We are here to provide exceptional customer service and tech. support. And we strive to bring our customers the best value and quality in the industry.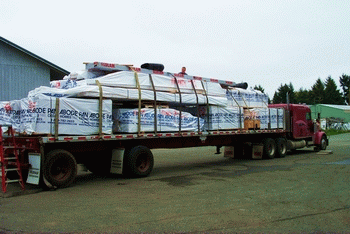 The
PAN ABODE

Process...

Concept & Estimating Phase...

Define a concept plan design and building system for your project. Either use one of our plans or one that you have sourced or created.
Refine your concept design and material list with a consultation with a PAN ABODE representative or dealer.
Request a FREE Estimate. Review estimate with representative after receipt. Check options and variations and understand how your choice impacts the building package.
Plans Development Phase...
Initiate plan development by either a "Preliminary" plans deposit, or a "Plans Order Deposit". Preliminary plans are the "feasibility study" plans. Deposit is $1.25 per square foot or $800 min. Deposit is applied to the purchase price of the building package but is also non refundable. Plans order deposit is 30% deposit to fast track or discount lock a building package
Prelim plans are drawn and reflect the initial "Estimated" building plans and Building System quoted..
Customer reviews plans and makes changes as needed. Plans are redrawn and re-priced. Prelim plans are used to source builders and full construction "rough" estimates for overall building budget. If acceptable with building budget and design, final permit ready plans are ordered.

Final Permit ready Plans are ordered. Requires either 30% down payment of contract amount or 15% up front & 15% due when plans & engineering are done and ready to submit for permit. (30% deposit, approved prelim plans and signed contract required.)
If a Structural Engineering report is required by permit agency, an estimate is acquired, approved and invoiced. Engineering fee's are a pass through cost for professional services to the customer.
Final plans are prepared and sent to Engineer for review. Plans are adjusted and Engineering seals and calculations are finalized. Remainder of 30% down payment is collected and plans and Engineering are released to customer for permit submittal.
Building Package Production Phase...
Building Package Production Phase: (Preparation for Construction Initiation)
Finalized permit application with finalized permit ready plans and engineering are submitted to local permit agency.
Financing for construction if needed is applied for with permit ready plans for appraisal.
Upon receipt of permit, customer initiates production of building package formally and must have arrangement for full payment (or assignment of funds from lender) along with signed contract completed. Site excavation and foundation work is generally done during the building package production phase.
Shipping date and jobsite delivery specifics are communicated to the shipping department. Shipping is scheduled.
Construction Ready plans are completed during the production phase process with adjustment made to plans to coincide with material lists.
First Building "Kit" Load arrives with building "Kit" documents including Construction Ready plans. Technical support always available for onsite personnel.