PAN ABODE strives for the highest quality of design & materials possible. We have highly skilled design professionals and unparalleled technical experts who are very knowledgeable in up-to-date building techniques.
Our mission is to incorporate "your" ideas, needs, and expectations into our complete and comprehensive approach to custom home design providing with the best quality service that is responsive, attentive, and timely.
PAN ABODE Cedar Homes has been giving away award winning Custom Design with our building packages for years. Choose one of our plans from the Idea Book and feel free to modify it, or bring in your own plan. With our "Free Custom Home Design Consultation", we will give initial expert design assistance and supply you with an accurate free pricing estimate. Work directly with a designer to get the home you want. Use the "Submit a Sketch" to initiate the process. "From Concept to Reality"
We can offer you unlimited design possibilities so that you achieve the custom cedar home of your dreams. Throughout the design development process you work directly with a PAN ABODE design professional. Your questions are heard and addressed by someone who understands design and cares about "your" specific desires.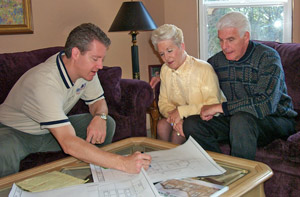 Our Experienced Design Staff will guide you through the process of capturing your ideas & desires into a truly Custom Home.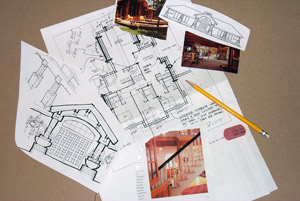 We urge you to collect images & elements to facilitate the synthesis into your new home.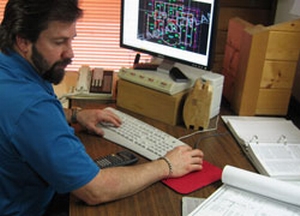 "State of the Art" Design Techniques ensure optimized system effectiveness.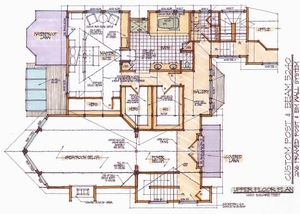 Custom Plans for Custom People!
The Idea Book
PAN ABODE Cedar Homes offers an abundance of plans in our catalog called the "Idea Book". It is the planning book in our "Custom Home Guide". It offers unique designs which include architectural styles such as chalets, ramblers, ranch homes, contemporary homes, and many other types of building configurations. The Idea Book provokes thought and motivates the designer in all of us. The Idea Book contains many standard plans used as a basis of initiation into the realm of PAN ABODE's Custom Design service.
To assist you in developing the various design elements of your home, many ideas will be proposed by PAN ABODE's Idea Book and our designers. Each feature impacts the overall feeling and character of the home. You can also draw from other sources for inspiration such as photos and articles. Ideas furnished by you are excellent communication tools to arriving at the home design you have always dreamed of.
Design Phase in 4 steps
...
PAN ABODE's design service is provided to you as part of our complete building system material packages and is included in our standard model prices. We design and furnish construction plans as a function to facilitate a building package sale. The design process can best be understood if it is evaluated in four phases.
First is the "Initial Programming Process," which are discussions with your PAN ABODE dealer or design professional to determine your general aesthetics, functional needs, site integration and projected budget.
Second is Concept Design. During this phase a standard plan is either selected from our idea book, or you may interact and correspond with someone from our design team to gather your ideas and establish your requirements for a custom design. In many cases we create sketches and make design proposals for your review and to see we've interpreted your desires correctly.
Third is Preliminary Design. During the design development phase, PAN ABODE's design team will provide you with computer-generated, drafted-to-scale drawings that will illustrate the project as it will appear when it's constructed, specifically defining the floor plans and exterior elevations. These plans are appropriate to acquire starting bids for construction.
Fourth and final phase of design is Construction Drawings. Based on your approved preliminary plans and order deposit, contraction drawings are prepared. PAN ABODE creates highly accurate and fully detailed architectural drawings for your home. Great detail is needed in the plans to not only convey how to accurately construct your custom home, but tell our manufacturing division exactly what and how to supply. Many builders have complimented us for our plan detail, it makes their job easier by alleviating second guessing how to properly assemble your custom home. These plans provide information to secure final construction bids and obtain most required permits.
Engineering: We also provide direct interaction with your local structural engineer if required. While our systems are engineered for installation anywhere, many local jurisdictions require local engineering dependent on your particular building site requirements. PAN ABODE will interact with your local engineer at no extra cost to implement any additional information he or she may require.
Customer Service...
PAN ABODE's design team, as part of our design development program, uses the latest computer design technology. This allows us to correspond with you using any medium available, while ensuring the highest level of accuracy and presentation quality.
PAN ABODE provides construction support in addition to our detailed plans and timber home construction manuals. We also have a toll-free number to answer construction questions, which are backed by experts who can provide detailed responses for the fastest and most efficient method for building our homes.
Designing a custom home can be very exciting. Here at PAN ABODE, we strive to provide personal attention, service, and a focus on detail to ensure your experience is enjoyable and satisfying.