Seasonal Cabin Kits...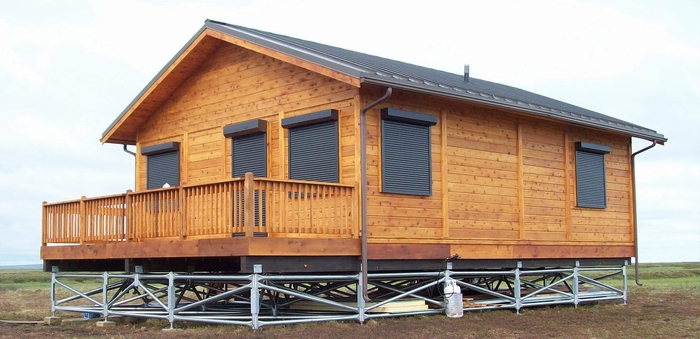 Alaska Tundra 3 Lam Phoenix Timber "Cabin Kits #606"
Seasonal
Cabin Kits...
(Seasonal Use: High Quality Wood Packages for Non Code Review Projects)
Remote Seasonal Cabin kits for the adventurous. These cabins are perfect for those seeking a quality cabin kit that is easy to assemble, rugged yet sophisticated, and durable. Precut and packaged for maximum onsite flexibility, our Cabin kits come complete from floor system to roof. All you will need to provide is the foundation and your personal things.
Our Cabin Kits come to your site wrapped and quality checked. Beams and posts are sanded and wrapped. All hardware is included and the kit comes with a full set of plans and a construction guide for ease of assembly.
(For Code Compliant Projects please review the Eagles Nest Series of plans and our Standard Building Specifications)

Download Brochure
What Our Cedar Cabin Kits Include..

.

Floor System... 2x6 joists spaced at 16" on center with 3/4" plywood subfloor

Wall System... 2x4 Hem-Fir Framing spaced at 16" on center with 1/2" CDX Plywood and Ext. 1x8 Cedar Siding. ---- or ---- "Phoenix" 3x8 Laminated Western Red Cedar Wall Timbers with Douglas Fir Timber Connectors

Roof System... 2x6 Tongue and Groove Roof Decking over Glulaminated Beams and 30 year Architectural Grade Fiberglass Shingles

Exterior Door... Exterior Metal Door with Ext. Cedar Trim including Satin Chrome knob and hinges

Windows... Vinyl Double Glazed Windows with Ext. Cedar Trim

Hardware... All Screws, Glue, Stainless Nails, Framing connectors, and Exposed Beam Hangers

Ladders... Hemlock site built "Ships" Ladder included on kits with upper levels

Interior walls... All framing and hardware included, finish assumed by Owner

Plans and Assembly Manual... Supplied with all our kits as well as technical support
Options...
Insulation Packages ... Available in a variety of ways for your specific site environment.
Decks...All exterior decks shown on plans are not included in published prices. Costs available upon request
Interior doors... A variety of styles are available from PAN ABODE Cedar Homes
Metal Roofing... Standing seam hidden fastener "SnapLok" available in a variety of colors
Skylites... Velux with flashing system available with fixed or operable glazing.